ONE OF MANY FRAGMENTS BY EDWARD ALLINGTON & NIKA NEELOVA @ NEW ARTS CENTRE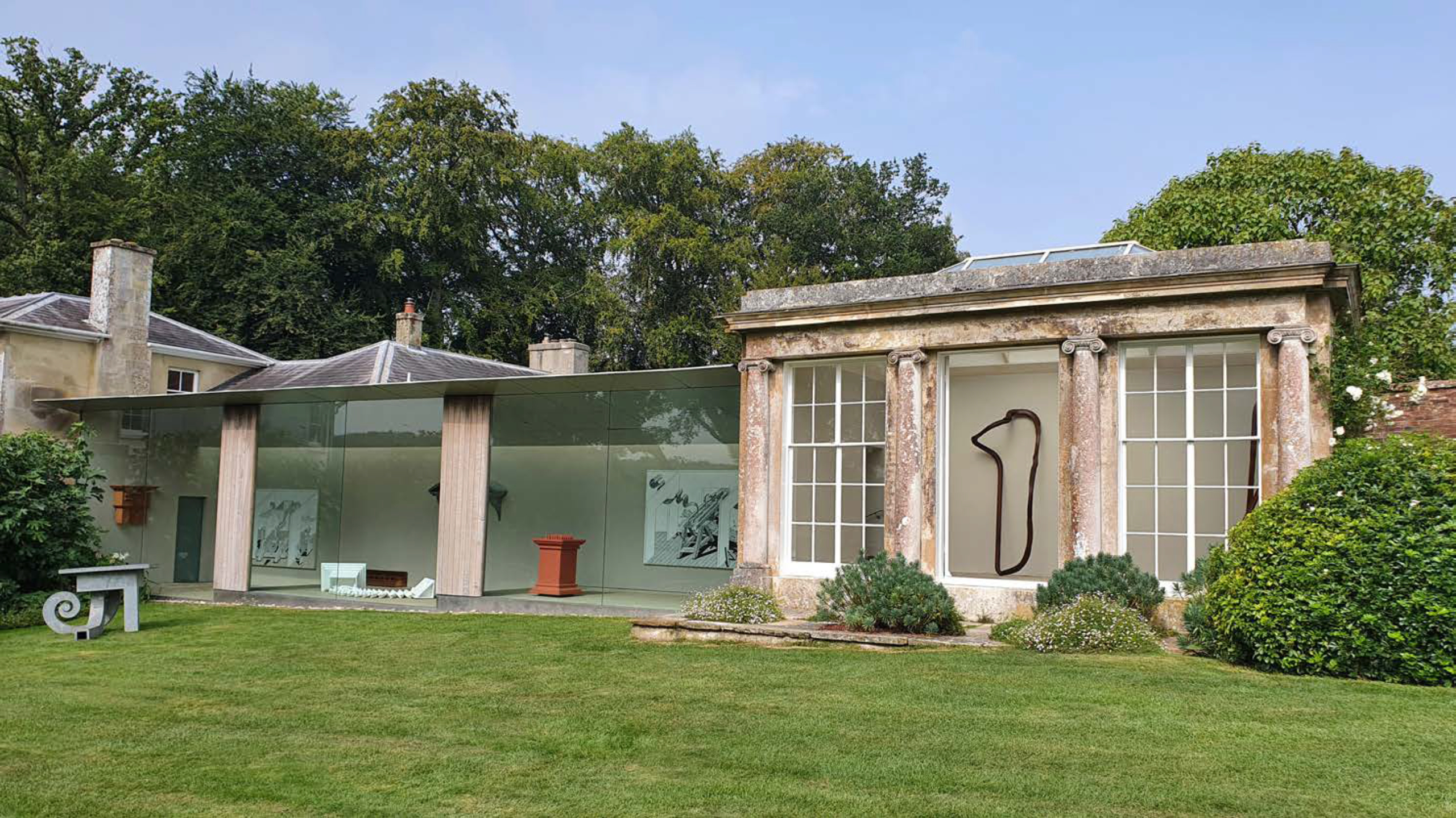 The New Art Centre has just recently announced  One of Many Fragments – an exhibition of work by Edward Allington and his former student at Slade School of Fine Art in London, Nika Neelova. Inspired by architectural details and artefacts, both artists reimagine objects and visual qualities that have been so commonly used they are now overlooked. Where Allington plays with the replication of classical designs and motifs, Neelova repurposes materials to create new forms.
Nika Neelova (b.1987, Russia) presents her sculpture in our nineteenth-century Orangery. These new works are comprised exclusively of reclaimed bannisters, extracted from historic buildings and reconstructed into undulating, continuous forms. The title of this series of works – 'Lemniscates' – is significant; it is a mathematical term for the infinity loop and speaks of the cyclical, seemingly infinite trajectory of materials in her practice. Though repurposed, Neelova makes a serious attempt to maintain the authenticity of the wood by leaving the surfaces of the bannisters untreated, ensuring the patina of time – that bears traces of each hand that has run itself down the surface of the object – remains present. The historic Orangery makes for an auspicious space in which an active dialogue with these 'Lemniscates' can take place.
Both Allington and Neelova's sculpture explore the power of the medium to affect place as much as to be affected by it. Speaking about Allington's work in 2003 in his book, Edward Allington Site Projects, curator Tony Godfrey wrote:
These were not large sculptures but in the room they seemed to have the gravitas of a public sculpture. They were examples of seeming paradox: domestic public sculptures.
The same applies to Neelova's practice. This quality of challenging sculptural categories, playing with the stylistic and material legacy of architecture, and confronting scale is shared by both artists.
Edward Allington (1951 – 2017) is known for his experimental approach to sculpture and was a central figure in the 'New British Sculpture' movement of the 1980s, alongside contemporaries such as Antony Gormley and Richard Deacon.  His work is characterised by the stylistic influences of classical architectural forms and his sculpture often features fragments of columns, pediments and cornices with classical embellishments. These details highlight Allington's interest in how these forms have found expression through the ages and remain ever present in contemporary culture. He also addresses themes of reproduction, mimicry and authenticity.
In our glass-fronted gallery the eponymous work, One of Many Fragments, a classically-infused wall piece sits alongside his other freestanding sculpture. Made from wood and plaster, and then painted, materially-speaking the work does not hold any physical legacy of the architecture of antiquity. Yet, with its cornice and scroll-like designs the influences and inspiration of this period are palpable. It is this clash of materials and style that hints at Allington's interest in what it means to (re)produce sculpture and the extent to which we can consider this authentic. These indoor sculptures are shown with examples of outdoor works, alongside his drawings that similarly speak to an interest in architectural space, structure and detail.
–
Photo and text courtesy of the New Arts Centre
More on the venue:
Exhibition dates: 11 September – 20 November 2021
Open 7 days a week: 11:00 – 16:00
Roche Court
East Winterslow
Salisbury, Wiltshire
SP5 1BG
For more information please visit:
www.sculpture.uk.com